7 Yards, a documentary that will inspire you to overcome.
After a life-altering tackle on the college football field, Chris Norton was told he would never walk again. Through grit and discipline, he retrained his body and spirit, and is currently preparing to walk the most important yardage of his life: seven yards down the aisle with his bride.
Donate to "The Ultimate Wedding Gift" & 7 Yards Film
Fotolanthropy is currently in production on the feature documentary, 7 Yards: The Chris Norton Story. Donations will go towards production and editing expenses. Anyone that donates $25 or more to this film will have their name listed on the movie credits! 

Who is Chris Norton?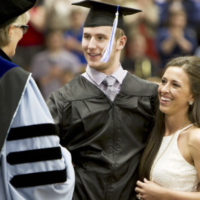 In October 2010, a debilitating spinal cord injury left Chris Norton with a 3% chance to regain feeling below his neck. Chris' football career was over, and the injury threatened to take much more than his ability to move. It could have defined him, but Chris chose not to be shaped by circumstance.
After proposing to his beautiful girlfriend Emily and walking across his graduation stage with her help, he is now training for his next goal and the most important yardage of his life: walking seven yards alongside his bride in April.
What is 7 Yards? And how does the ultimate wedding gift tie in?
7 Yards is the working title of our newest feature-length documentary that pays homage to Chris' next goal and the symbolic number of completion. "The Ultimate Wedding Gift" is what we are calling our crowdfunding campaign for 7 Yards. Between the funds needed to film, produce, edit, score, and distribute our feature length documentary gift to the soon-to-be Nortons (as well as arrange much deserved wedding day accoutrement), we are considering every donation a contribution to this ultimate wedding gift for the most admirable couple we know.
Where are you in the process of making this documentary?
Our team has traveled to Iowa and Florida to gather nearly 40 hours of initial interview and reenactment footage to develop the storyline for Chris's injury and rehabilitation. We are currently in full blown fundraising mode and once we raise the funds needed, we will continue the film journey of producing 7 Yards.
How will my contribution be used?

The budget for this film is $250,000. Please read below to understand how these funds will be allocated.
  |  Feature Documentary Film
Our film team is dedicating a year and a half of their time and many talents to produce 7 Yards and provide a source of inspiration for our viewers to summon the courage and resilience it takes to overcome. The crew will film for 26 full days. Collectively, the crew is donating more than $72,500 of time to keep the budget as lean as possible. (Budget to shoot film: $65,000)
  |  Equipment
To best capture and honor Chris and Emily's story, we have budgeted for the best equipment in the business: including insured RED cameras, Cine-lenses, lighting and audio. Although we own professional gear, equipment rentals are needed for larger production scenes needing multiple angles, special effects, lighting and challenging audio situations. We have six planned filming trips, averaging $8,300 per trip ($50,000)
  |  Post-Production
Our talented post production team will have task of meticulously paring down nearly a month's worth of footage to craft a final 90 minute documentary. Budget includes editing, color correction, and sound mix. ($84,000)
  |  Music Score
To capture the appropriate tone and emotions of this film, we have enlisted the talents of Jesse Keller of Rellek Entertainment to bring 7 Yards to life with professional musical scoring. He has graciously given us a discounted rate. Budget also includes the purchase of licensed music needed for the film. ($6,000)
  |  Wedding Photography & Videography
As a part of our "Ultimate Wedding Gift" for Chris and Emily, we have arranged for renowned wedding photographer, Sarah Kate, to photograph their big day and will further gift them with a wedding video package by Jonathon Link Studios and highlights from our footage. ($15,000 valued gift)
  |  Wedding Flowers & Decor
As a part of our "Ultimate Wedding Gift" for Chris and Emily, Nathan Johnson, Creative Director of GRO Designs, is donating his time and wedding planning expertise to help create the wedding-scape of their dreams. Funds raised will help cover the expense of flowers, linen and decor. (Budget will be based on giving from our amazing backers)
  |  Travel
Our film crew lives in Dallas, Texas and our travel budget includes round trip flights for these scheduled trips to film entire story:
Decorah, Iowa (film and re-enact football game, helicopter and hospital  scenes) – 4 crew member round trips

West Palm Beach, FL (film Emily's interview, real life, Chris's workouts at Barwis Method's) – 4 crew member round trips

West Palm Beach, FL (for the wedding walk) – 10 crew member round trips – Includes crew, photographer, event team

Rochester, MN – (Film crucial interviews with Chris's Doctors, PT's and nurses at Mayo clinic, hospital reenactments) – 4 crew member round trips

Des Moines, Iowa – (Film additional b-roll, interviews with family members, re-enactment scenes) – 3 crew member round trips

Dallas, TX – Fly Chris and Emily to Dallas, TX to shoot movie poster with Sean Berry, dating scenes, childhood re-enactments) – 2 cast member round trips
Total round trip flights: 23
Lodging: 2 hotel rooms for approximately 26 nights
Car Rental: Van for 26 days in various shooting locations.
Check out our instagram page to see our hotel accommodations, our guys help us keep the budget lean by bunking up in one hotel room and we stay in the most affordable hotel option without risking getting bed bugs 🙂  ($21,500)
If you would like to donate mileage or can help us get a discounted hotel or car rate, please email us at films@fotolanthropy.com.
  |  Distribution
Upon completion of this film, we will work tirelessly to distribute and inspire viewers all over the world with Chris and Emily's story through film festivals, theatrical screenings and digital distribution. Our previous work can be found on iTunes, Amazon, Netflix, Pureflix and we hope to continue these great relationships to screen 7 Yards in homes across the globe. Funds will be used for marketing, advertising, licensing, closed captioning fees and attorney fees. ($21,700)
Why should I give to this project?
Fotolanthropy exists to inspire viewers and empower our film subjects. By donating to this project and contributing to our "ultimate wedding gift" for Chris and Emily, you are not only empowering this inspirational couple to share their story, but also unleashing endless opportunities of healing, inspiration and decisions for positive change in the lives of those who watch this documentary.
How can I become an official sponsor of 7 Yards?
Simply email us at films@fotolanthropy.com to learn more about the sponsorship opportunities for our feature documentary, which includes logo acknowledgement on website, promotional materials and film credits.
To learn more about this inspiring story and film project, visit 7yardsfilm.com.
Donation checks can be made out to Fotolanthropy and mailed to:
Fotolanthropy
6333 E. Mockingbird Ln.
Ste. 147-648
Dallas, Texas 75214
Fotolanthropy is a Fully Tax Deductible 501(c)3 Nonprofit Corporation (Employee Identification Number: 46-1376576). The full amount of your contribution is deductible for federal income tax purposes.