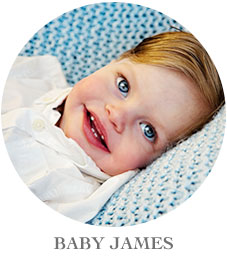 In 2011 I was running my own photography business and started searching for a way to give back with my photography. I had a vision to create a nonprofit that would bring photographers and filmmakers together, and document inspiring true stories, but I wasn't sure quite where to begin. I started praying about this idea, and one day I received a phone call from a young mother. Her only child, baby James, had been diagnosed with an inoperable brain tumor, and she asked if I could come to the hospital to take a few family portraits. I will never forget the heartbreak in her voice and how that phone call would change my life. I gathered a team and that was the beginning of Fotolanthropy. Just a few weeks later baby James tragically passed away, but he remains the heartbeat behind everything we do at Fotolanthropy.
When I received that "call" I never could have imagined where the next six years would take Fotolanthropy. We've been able to provide portrait sessions to families whose inspiring stories have included individuals finding hope and purpose in the midst of natural disasters, infertility, disabilities, terminal illnesses and more. Our portrait story, "A Father's Love," has several million online views and continues to be shared on popular sites such as the Huffington Post and the Daily Mail. In 2012, we produced our first feature-length documentary film, Travis: A Soldier's Story, an award-winning documentary about quadruple amputee and veteran Travis Mills. And in 2015 we premiered our second feature-length documentary, The Luckiest Man, about Dallas businessman John Paine's journey with ALS.
Our movement would not be possible without our incredible Fotocrew members who have chosen to serve these families by sharing their talents of photography and filmmaking, our courageous recipients who have allowed us to share their inspirational stories, and our supporters whose selfless donations make telling these stories possible.

Katie Norris, President & Founder | Fotolanthropy